Family Pool 360
Montauk Dr Wellington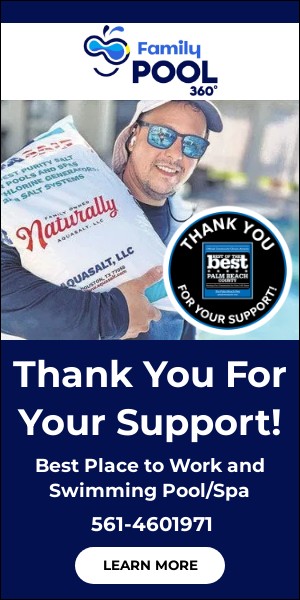 Opening Hours
Monday :

7:00 - 7:00

Tuesday :

7:00 - 7:00

Wednesday :

7:00 - 7:00

Thursday :

7:00 - 7:00

Friday :

7:00 - 7:00

Saturday :

7:00 - 7:00

Sunday :

Closed
We are a service company dedicated to the maintenance, remodeling, updating and repair of residential swimming pools. Our team is made up of professionals who are experts in the area, responsible, serious and committed to providing you with the best care.
Our goal is to provide you with an excellent service that covers all your requirements or needs, allowing your pool to be in optimal condition 365 days a year.
For Family Pool 360° every detail is important, for this reason we work in an organized, efficient and impeccable way. Enjoy all the advantages of hiring experts that guarantee a VIP service. Contact us +1 561 4601971 and we will schedule an appointment, we will carry out an inspection totally free.
Compañía de Limpieza y reparación de piscinas, en el area del Condado de Palm Beach.