United Way of Palm Beach County
477 S Rosemary Ave, Suite 230, West Palm Beach, Fl 33401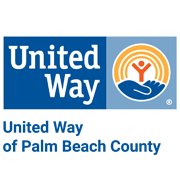 Opening Hours
Monday :

Closed

Tuesday :

Closed

Wednesday :

Closed

Thursday :

Closed

Friday :

Closed

Saturday :

Closed

Sunday :

Closed
Mission Statement
---
Our Mission
To ensure that everyone in Palm Beach County has access to the basics: a quality education, a place to live, financial stability, good medical care, and enough to eat.
Our Vision
To be the community focal point to improve lives in Palm Beach County. Click here to view our video.
Our Guarantee
Giving to United Way of Palm Beach County is the best way for you to make a difference in our community. Every gift made to United Way of Palm Beach County is considered an investment in our community, one whose impact will be multiplied when combined with others.
Guiding Principles and Values
The following are guiding principles and values that describe who we are, what we believe and how we behave. It is a combination of who we are today and who we are striving to become: a community leader, collaborative partner, and solutions provider.
Caring: We are about people helping people. We care deeply about the individual lives that are changed with the help of United Way. We care about improving the overall quality of life in the communities we serve. United Way stands for helping, hope and optimism.
Inspiring: Our style of leadership is to encourage and motivate. Others in the charitable community are inspired by our spirit and actions. Our aim is to guide and empower them.
Innovative: We are the leader and catalyst for change in the business of caring. We do not rest on our laurels. We look for approaches that have not yet been taken. We explore alternatives and seek new ways to solve community problems.
Approachable: We understand the importance of being accessible and empathetic to all those we serve. Our local presence and our intimate understanding of community help us build lasting partnerships. We believe great results come from working together.
Trustworthy: United Way sets high standards for its conduct. We must always be above reproach. The contributions that donors and volunteers make through United Way are investments in their communities. They trust us to be effective, efficient and good stewards of these investments.
Dynamic: United Way is energetic and passionate. We tirelessly pursue building stronger communities. United Way is vital and resolute – a positive force for change.
Results-Oriented: United Way holds itself accountable not just for action, but also for results. We are driven by the commitment to make a real difference in the community we serve. We are in the business of solving community problems.